About Us
KESDEE is the world's largest financial e-Learning company.
KESDEE's e-learning catalog consists of 750 accredited e-Learning courses on various topics in following areas:
Banking
Finance
Accounting
Risk Management
Insurance
Financial Planning/Wealth Management
In addition, KESDEE offers eCoaches, the web-based Tutorials for Certification Exams in Risk Management and Financial Analysis.

KESDEE's e-learning solutions are relevant for the providers of financial services, as well as for users, regulators and advisors of financial services. KESDEE's e-learning courses are relevant for educational institutions in their certificate/ diploma/ degree programs.
KESDEE embodies the themes of: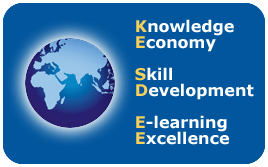 KESDEE's clients are from the following verticals:
Banking and Financial Services Industry
Regulators Of Financial Services
Large Corporations
Small and Medium Enterprises
Consultancy firms
Technology companies
Educational Institutions
Professional Associations (of Banking, Finance, Accounting, Risk Management and Insurance)
KESDEE e-learning solutions are also available in Spanish.

Hull on Derivatives course Library is available on our portal John Hull e-learning from KESDEE.

Kaplan/KESDEE web based exam preps are available for Insurance Achievement Content.

For more details, please visit www.kesdee.com